News
Details

Written by

Administrator

Category: Latest
Hits: 7239
On August 25th, after 9 days 06h 58' 01'' we crossed the line in 8th place on Leg 2. This gave us an overall placing for the entire race of 7th out 69 boats - a fantastic result and also the top placed rookie.
After the downwind flyer that comprised the first leg, the second leg was a return to the light upwind sailing that has been so typical of this year. It was a long hard slog against the headwinds on the south of the Azores high before we finally reached the Bay of Biscay and finished off the leg with some crazy fast downwind sailing with winds of up to 35 knots.
You can check out the route on the race viewer here.
Details

Written by

Administrator

Category: Latest
Hits: 6867
Finally after a summer of light wind and upwind sailing we havd a race with fast downwind sailing. The first two days of sailing were upwind and spiced up by a breezy cold front which came through giving the fleet 30+ knots. After passing Cape Finisterre we were freed off and were reaching and then running in ideal conditions with 20-25 knots behind us. Rafiki was revelling in the conditions surfing at up to speeds of 18 knots.
Despite falling to 23rd place on the second night after ripping the solent, we steadily worked our way up the fleet and ended up crossing the line in 8th overall out of 69 boats. We have now been promoted to 7th due to the unfortunate penalty given to Adria Mobil for incorrectly rounding a mark on the first day. This gives us our best result of the year in the biggest and most competitive race of the year.
The return leg starts on August 15th (now postponded until August 16th 1300UTC)
Details

Written by

Administrator

Category: Latest
Hits: 6705
For a few of us, the Trophee MA Perron began in Pornichet as we waited for the wind to ease so we could get our boats up to Douarnenez in time for the start. We waited half a day after I had arrived for the winds and seas to subside - the previous night, Woody (Andrew Wood-GBR 500) had recorded a max wind speed of 79 knots. We finally made it up to Douarnenez with a day to spare before the start of the race.
The race got underway with a westerly breeze. We had a reasonable start with compared to my first race coming in at the committee boat end but soon tacked off on to the NE. At the point the fog moved in until it was quite thick. From that point, much of what happened is a complete mystery.
Details

Written by

Administrator

Category: Latest
Hits: 6828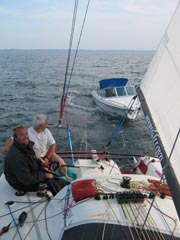 The Demi-Cle is a 950 mile double-handed race of 3 legs that starts from Locmiquelic near Lorient. The legs are Locmiquelic->Brest (via Belle Ile), Brest->St Quai Portrieux (via Lundy Island in the mouth of the Bristol Channel) and then St Quai back to Locmiquelic. Unforunately, this years race was plagued with the same light winds which have effected all of the Atlantic races that we have sailed in.
I was again racing with Alex Alley who I had previously raced with in the Min Fastnet. Unfortuatnely, as with the Fastnet, we again struggled to produce our best in the light conditions.
Despite the unremarkable conditions, the race was made memorable for us with a somewhat bizarre incident on Leg 2 in which we ended with us rescuing a small speedboat whose outboard engine had ceased working.
Details

Written by

Administrator

Category: Latest
Hits: 6028
Day 1 - May 5th
We started out from Pornichet on a lovely evening with about 8 knots of breeze. I was already regretting not bringing the tonic to accompany the gin that was onboard from our delivery. However by the time we reached Belle Ile the wind had turned off completely. We spent of the night bobbing around with barely any wind. An unfortunate sign of things to come...
Day 2 - May 6th
We spent the next morning battling our way out from behind Belle. We finally emerged into a little W-SW breeze which was what had been forecast. Unfortunately that breeze turned NW as we sailed up the coast and then turned off completely leaving us floundering in a swell going absolutely nowhere. I spent most of the night hand-steering to make the most of the any breeze that was around - something I was trying to avoid so I could get some sleep before crossing the shipping lanes tomorrow.
We have only averaged 3.5 knots so far which is very frustrating given the pressure I am under to finish this sail and get back to London. I need to cover about 1150nm in a bit over 9 days which works out at 128 nm a day or just over 5 knots. We are slipping badly already...